Yes, gentlemen, Mother's Day 2020 is just around the corner. Stop stressing about what to give your gun-toting wife. Most women love purses and what  concealed carry wife isn't going to be pleased with a stylish, well designed  concealed carry purse?
Most of us (read husbands) are just a bit uncomfortable trying to shop for any accessory for our wives. Take heart – with a little preparation and a little understanding, finding that stylish  concealed carry purse that will put a smile on your wife's face is easy.
So, what do you look for in a concealed carry purse? There are several things to look for in a  concealed carry purse that will both please your wife and meet the demands of proper concealed carry requirements.
Dedicated Carry Compartment
Integrated or Accessory Holster
You may still be apprehensive about selecting a purse that will meet your wife's tastes and needs. Finding a purse that meets your spouse's sense of style yet provides the necessary safety and usability features can be a challenge.
Style
Purses come in a wide variety of styles. Many of the are not suitable for concealed carry. The following styles of purses are most adaptable to  concealed carry.  If you need a clue about what style of purse your wife prefers, do a little investigating. Look in her closet and compare the purses found there. That should give you a head start on what to look for when buying a  concealed carry purse.
Here are the styles that are the most adaptable to concealed carry. Many manufacturers are now making full lines of purses designed for concealed carry that have all the functionality required as well as being as stylish as any designer purse on the market.
Shoulder Bags
Shoulder bags are probably the most popular style of purse that women carry. They come with both long straps and short handles, or with intermediate length handles allowing shoulder carry or arm carry. The size of these bags lends itself well to  concealed carry.
Tote Bags
Tote bags are a variant of the shoulder bag. This style of bag is larger and more casual than a shoulder bag. The usual shape is rectangular with an open top and longer handles. The size of tote bags makes adapting them to concealed carry easier. The downside is the sheer bulk of the purse, making it hard to control in awkward situations.
Crossbody Bags
Crossbody bags feature a longer strap configured to go across the body or around the waist. These bags are usually smaller than a shoulder bag, and because they are worn tight to the body, they provide good control of the bag at all times. 
Satchels
Like crossbody bags, satchels feature shoulder straps allowing crossbody wear. Satchel bags are larger than crossbody bags and feature an envelope flap and buckle closures. Satchel bags are a very secure design but can limit access to the firearm.
Hobo Bags
Hobo bags are essential shoulder bags with a slightly different shape. The hobo bag is a favorite for many people and is considered very stylish. Its' size and shape lend adaptability to concealed carry. Many concealed carry purses use this shape in their design.
Backpack Purses
Backpack purses are popular with younger women and students. The design allows hands-free carry and is easily adaptable to  concealed carry. The downside is that carrying the backpack purse as designed puts the firearm out of immediate reach. 
Now that you have an idea of what style of bag that suits your wife's taste, let's take a look at what a functional and safe concealed carry purse incorporates into the design.
What Else Should a Concealed Carry Purse Have
As was mentioned earlier, there are more considerations to choosing a concealed carry purse than just style. When looking at  concealed carry purses, you should also consider the following details.
Dedicated Carry Compartment
A concealed carry purse must have a dedicated compartment for the firearm. Dropping a loaded firearm into the main compartment of a purse is asking for problems. Most purses feature a large main compartment into which women tend to drop almost anything. This can lead to dangerous situations where loose objects can interfere with the firearm or even trigger a negligent discharge.
A dedicated compartment eliminates these hazards. The design of most concealed carry purses provides a dedicated compartment with a side opening to make accessing the firearm easier and safer. This end opening feature sets up the purse for either right or left-handed draw.
Shop for a purse whose dedicated carry compartment unzips from the end. The end opening allows the firearm to be drawn smoothly from the compartment, no matter the orientation of the purse in relationship to the body. 
Integrated or Accessory Holster
Even if the concealed carry purse has a dedicated concealed compartment, a properly fitted holster is a must. Whether the bag features an integrated holster or has fittings for the addition of an aftermarket holster, the firearm is best protected and kept in a ready position in a holster. The wide range of available models and styles of  concealed carry firearms makes the ability to use an aftermarket holder a popular option.
Functionality
Functionality is closely akin to style. Women have their own ideas about how a purse should function and what it must do for them to be happy with it. It may take some detective work to understand what your wife wants in her purse. Consider the following questions to get a better idea:
What does she normally carry in her purse? The purse must be big enough to carry everything she uses during the day comfortably. 
How does she carry her purse? Does she carry with the strap across her body, or does she hang the bag from her shoulder by the straps? 
Does she prefer leather, fabric, flamboyant colors, solid colors, or patterns? Again, a little undercover work in the closet will give you a better understanding of what your wife prefers.
Think about construction and material quality. A purse is as much a fashion statement as it is a functional piece of your wife's wardrobe. She wants it to reflect her personality and her sense of style. An important part of this is the quality of the material that goes into the purse and how well made. Remember that this purse will go with her everywhere she goes every day and will suffer a lot of wear and tear. Opting for quality, in the beginning, will pay in the end.
Proper Size
If your wife prefers to carry small bags, you may face a challenge. The purse size must be adequate to conceal the weapon she intends to carry concealed. A subcompact automatic like a Glock 43 isn't as big a challenge as a full-frame pistol like a Smith and Wesson M&P. 
Easy Access
Even if the purse has an end opening dedicated compartment, make sure that the access to the compartment is adequate. The size of the firearm carried, and the way the compartment sits on or in the purse can affect the way the firearm can be accessed. If possible, check the fit and the access to the firearm in the dedicated compartment with the firearm itself.
Shoulder Strap
Whatever style of bag you chose, it should have a shoulder strap. Purses are a favorite target for grab and go theft. Losing a purse with credit cards and cash is bad enough. Losing a purse holding a firearm to a snatcher is another matter altogether. Carrying the purse with a crossbody shoulder strap offers much more security. Many manufacturers are putting steel straps or wires into the shoulder straps of their  concealed carry purses to foil purse snatchers who may try to slash the shoulder strap to get the purse.
The Shopping Options
Not too many years ago, getting a concealed carry purse meant a custom job. Today, many options exist for anyone shopping for a concealed carry purse. Let's look at a few of the best options now.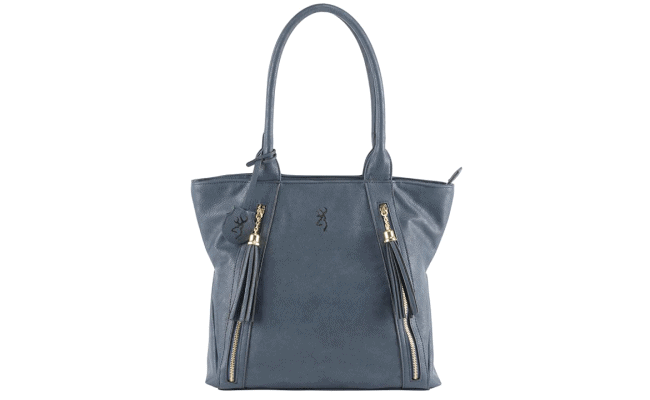 The Browning concealed carry purse is as stylish as they come. Established in 1878, Browning has built a brand around being the best there is in the firearms and outdoor product spaces. This bag is made of premium materials and leather that provides a smooth feel and a rich color. It has a zipper closure and polyester lining. 
The zipper can be locked, and the key ring stays hidden. This ensures that you have easy access to your concealed carry weapon or other valuables stored within. 
Additionally, it has a quick access pocket for your holster. You can even remove the holster and rotate it based on your own personal preference and comfort.
All in all, the Browning concealed carry purse is best if you want something reliable and stylish.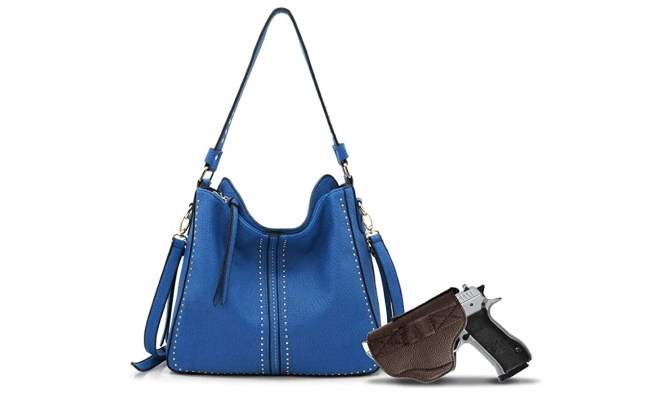 The Montana West brand is known for affordability, without sacrificing quality. This amazing purse is a great pick if you are right or left handed. It comes with a velcro-secured detachable holster. 
The center pocket is double zippered, so your holster is safe and secure when you need it. 
The purse is made of high quality faux leather, which means that it's durable and prevents scratches. It's roomy enough to carry all your everyday essentials, while also leaving room for bigger trips. 
There are dividers and compartments for your various needs. The two front pockets are great for makeup, and the back wall zipper pocket makes a great storage solution for keys. 
This concealed carry purse is "hobo style" which means you can switch how you carry it depending on what you want – across your shoulder, or cross body.
Additionally, Montana West offers great customer service, and will work with you to fix any issues with an order. This purse makes a great gift around the holidays!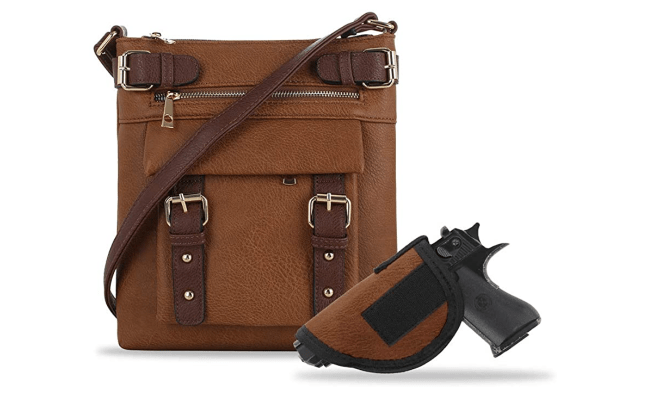 The Jessie & James concealed carry crossbody bag is our top pick for utility. It offers a wealth of features and functionality, while keeping ease of access at its heart. 
This bag is also made of premium faux leather, and it's all eco friendly vegan PU leather. This means it'll be durable and long lasting, being able to withstand everyday use. If anything scratches it, it's easy to wipe clean with a rag.
No matter how great a bag is, it has to look good to actually be good. This bag hits the mark every time. It is fashionable, yet casual. It can mix and match with any of your outfits. It can work for casual outfits, or elegant nights out.
The bag is smaller, so you'll want to keep items in it a bit lighter. It's got a front and back zipper pocket, and the back one locks for your weapon. The lockable pocket is perfect if you are a right handed shooter. It also includes a removable holster.
The interior has a soft fabric, which is ideal for cell phones or other small items. Again, this would make a fantastic gift for a loved one who wants to remain stylish and secure.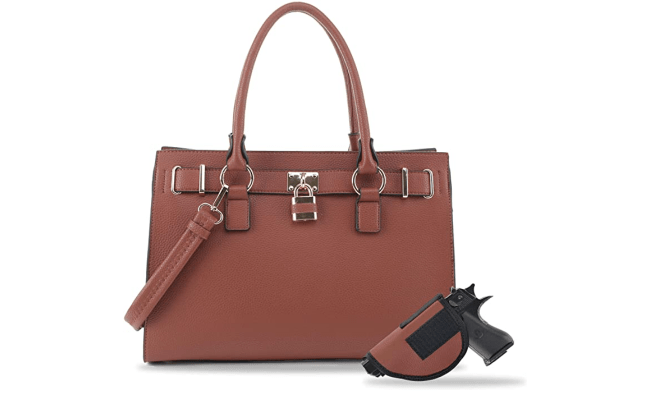 Emperia Outfitters is a fantastic pick for concealed carry purse. We love their gear, and highly recommend them. 
The Dina Lock concealed carry sachel is made of premium faux leather. It's affordable and will last many years! It's simple to clean, needing only a rag and water. 
This purse is larger, measuring 15" wide and 11" tall. The pistol concealment bag is spacious enough to hold your firearm and accessories. It's also right or left hand friendly, so use it however it works best for you.
Additionally, there are 3 interior pockets for organization of makeup, cell phones, keys, and any other daily necessity. 
As with other bags, this is both fashionable and easy to accessorize with. That being said, it provides a simple elegance, which we feel really makes it useful in daily situations.
It's also worth noting that Empiria offers 100% customer satisfaction through a 30 day free return and 60 day free replacement. We love good customer service, and that puts them high on our list of top concealed carry purses.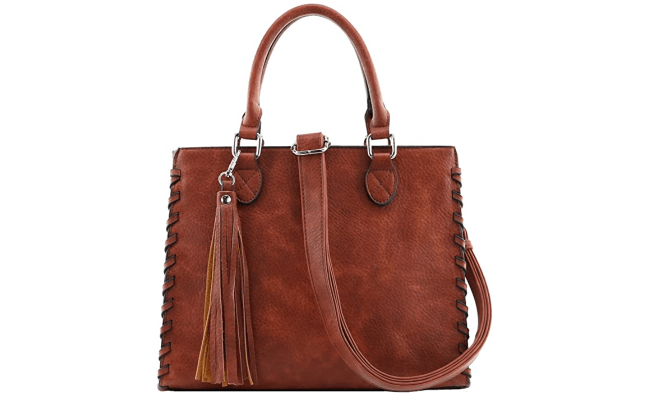 What list would be complete without a high-end option? The Lady Conceal YKK Locking Laced Ann Concealed Weapon Satchel is an outstanding pick if you have a few extra dollars to spare. 
This bag has premium distressed faux leather, and has laced sides with silver tone hardware. This mix provides an elegant and classy look for fancy occasions. The straps are versatile, and can be worn across your body or carried by hand. The straps also adjust from 26" to 48". 
The bag's interior is spacious, with fully zippered access. The interior of the bag is lined, and has two slip pockets and a large zippered privacy pocket. It also sports a leather strap for easy access to your keys. 
If you aren't familiar with YKK zippers, just know they are amazing. They hold up incredibly well with age, and won't get caught or tangled like many store brand zippers. The locking concealment pocket has YKK zippers and 4 keys, as well as a universal holster for your concealed firearm. 
All in all, this purse is our top pick if you require nothing less than excellent.
In addition to our top 5 concealed carry purses, here are some of our favorite manufacturers as a whole. We'd recommend considering any of these for your needs.
Emperia offers a tote style bag that is aesthetically pleasing and functional. The Emperia tote features a fully padded, dedicated compartment. This tote bag comes in three colors with faux leather trim.
Gun Tote'N Mamas offers a full line of purses and bags for both men and women. These are stylish and designed by women who are concealed carriers themselves. Gun Tote'N Mamas has a full line of styles, colors, and materials from which to choose.
If Haute couture is your wife's thing, then you need to shop at Beau and Arrow. The founders are versed in fashion and design and have brought that knowledge to the concealed carry market.
Gun Goddess, not only sells their line of fashion concealed carry purses, but they also have a complete line of shooting and carry accessories designed just for females. Check out their hobo tote.
The Well Armed Woman is not just a purse and accessory website. The Well Armed Woman is a resource that covers the gamut of shooting sports. They also sell some of the best concealed carry purses on the market. If your wife prefers smaller purses, The Well Armed Woman is one of the few manufacturers that offers a complete line of clutch and evening purses designed for concealed carry.
Now Go Shopping
Alright! You've now done your homework. Armed with this information (pun intended), get out there and select a concealed carry purse that will be perfect for your wife. You'll look like a hero, and Mother's Day will be a wrap. As a final note, be sure to show any woman in your life our guide to conceal carry for women – it offers practical tips for everyday preparedness.