Maine Concealed Carry Training
Get your multi-state concealed carry certificate in minutes!
Concealed Carry Training, Made Easy in Maine
Welcome to Online Concealed Handgun Permit (CHP). We offer multi-state, online concealed carry training. To get started, watch our quick video, take the free test, and finally, download your certificate! It takes less than 30 minutes and is very simple.
Step 1:
Watch the Video
Complete the requirements by watching our free instructional video.
Step 2:
Download the Certificate
Pass the free test, and download your certificate of completion.
Step 3:
Complete the Application
We outline the final steps necessary to secure your concealed carry permit.
How it Works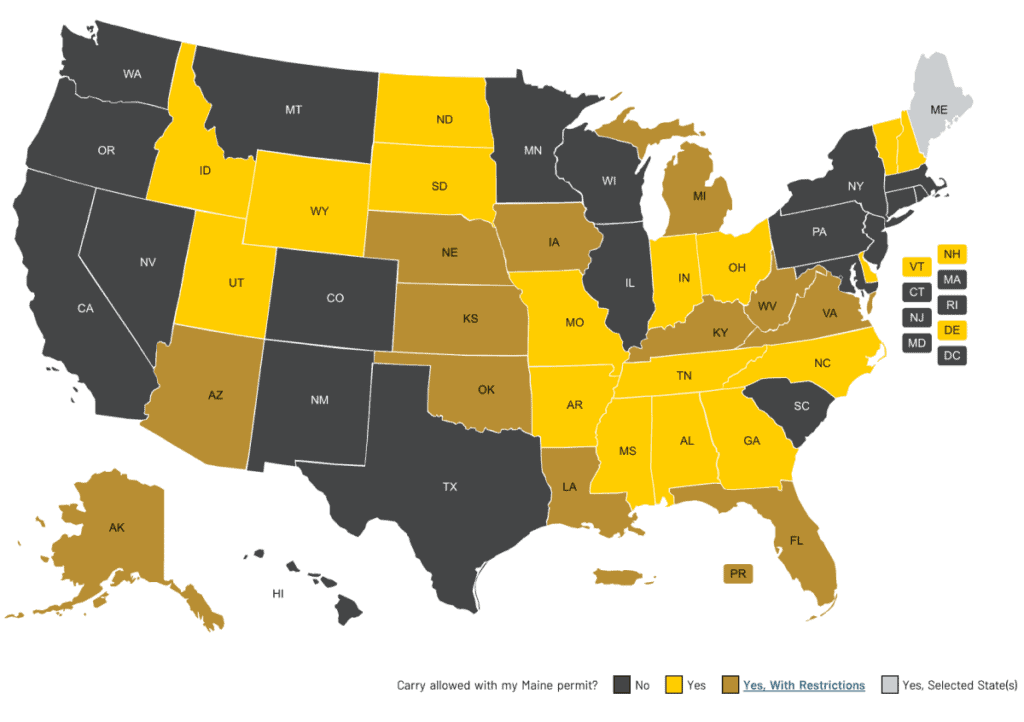 Are you a resident of Maine looking to exercise your 2nd Amendment right to conceal carry a firearm? At Online CHP, we are proud to play this role in educating Americans about firearm safety.
The state of Maine allows for the issuance of concealed carry permits to both resident and non-resident applicants. Maine allows for online concealed carry training as the required proof of competency with a firearm (as opposed to requiring in-person training). Laws frequently change, so we highly recommend getting your permit now!
Furthermore, you may apply for a Maine concealed carry permit if you are a resident or non-resident of Maine. Obtaining your Maine concealed carry permit allows you to legally carry in 29 states, as well, so it's a win-win!
The Maine concealed carry permit is honored (through reciprocity) in 29 states, including Virginia concealed carry. Once you have your Maine concealed carry permit, even if you are not a Maine resident, you can legally carry a concealed firearm in all 29 states that recognize this permit. If you'd like to learn more about the details, please visit our State Acceptance page or read our FAQs.
In notable news, Virginia concealed carry laws recently changed and are more restrictive, so obtaining a Maine concealed carry permit will also allow Virginia concealed carry. If you would like to also obtain your Virginia concealed carry permit, our program is an excellent first step. We offer comprehensive online training, a Certificate of competency, and finally, we have a network of Virginia partners for in-person training that we'll recommend to you.
Our highly trained instructors provide online training, testing, and the issuance of your Certificate of Handgun Competency. We can also provide a variety of local partners to contact for additional in-person training.
There is no better time than the present to obtain your Maine concealed carry permit, as the laws surrounding concealed carry can change at any point. Our nationally certified instructors meet all Maine state requirements to train and certify you in firearm safety, and our training provides comprehensive firearms safety.