Let's talk about the best tactical pants to complete your ensemble for your range day. When you begin searching for the best tactical pants on the market, you will find that there are many options, price ranges, styles, colors, and extras that you may not have even thought about. Yet, once you have your pants on, you shouldn't have to think about them. You shouldn't think that the material is chafing, that you are hot, or that the pockets are too far down to reach your concealed carry weapon. 
If you can go through an entire range day and not think about your pants, they did their job. So, before you choose a pair of pants off a general "Top 10" list, you need to identify what you, specifically, need. That way once you pull up your pants, you'll know they are the best tactical pants for your concealed carry or daily needs.
What are the Best Tactical Pants for You?
Identifying what you need is going to be key. If you just choose the #1 pick for best tactical pants on a random list, you might end up spending $200 on CRYE Precision pants. While they truly are amazing tactical pants, if you're buying them for an indoor range shooting hobby, then a pair of lightweight CQR tactical pants could have done the trick at just $35. There are a lot of great options when it comes to tactical pants, but what's the best pair for you? 
It's a deeply personal consideration, but a few factors to keep in mind are:
Price Range – This can be anywhere from $35 – $250 depending on the brand.
Weather – Tactical Pants can be made for hot or cold weather, indoor or outdoor use, and dry or wet conditions.
Durability – You may use these pants for intense movements or casual walks.
Cargo & Accessibility – This takes into consideration how much you need to carry and how quickly you need to access it.
Men's/Women's – Some tactical pants are only available in Men's or Unisex sizes.
Extras – Think of things such as knee pads, knife or flashlight holders, and charge loops.
Once you've decided what you need, you can narrow down the best tactical pants for you. We've done a lot of the legwork for you, and broken the best tactical pants into light, practical, and professional tiers.
Light Tactical
Your "Light Tactical" pants are going to be in the price range of $30-$45. Don't let the low-price fool you into thinking that they aren't good quality pants. High price does not equate to the best tactical pants. These pants listed here are meant to serve your needs for shooting, hiking, and other activities that won't put a lot of wear or tear on them.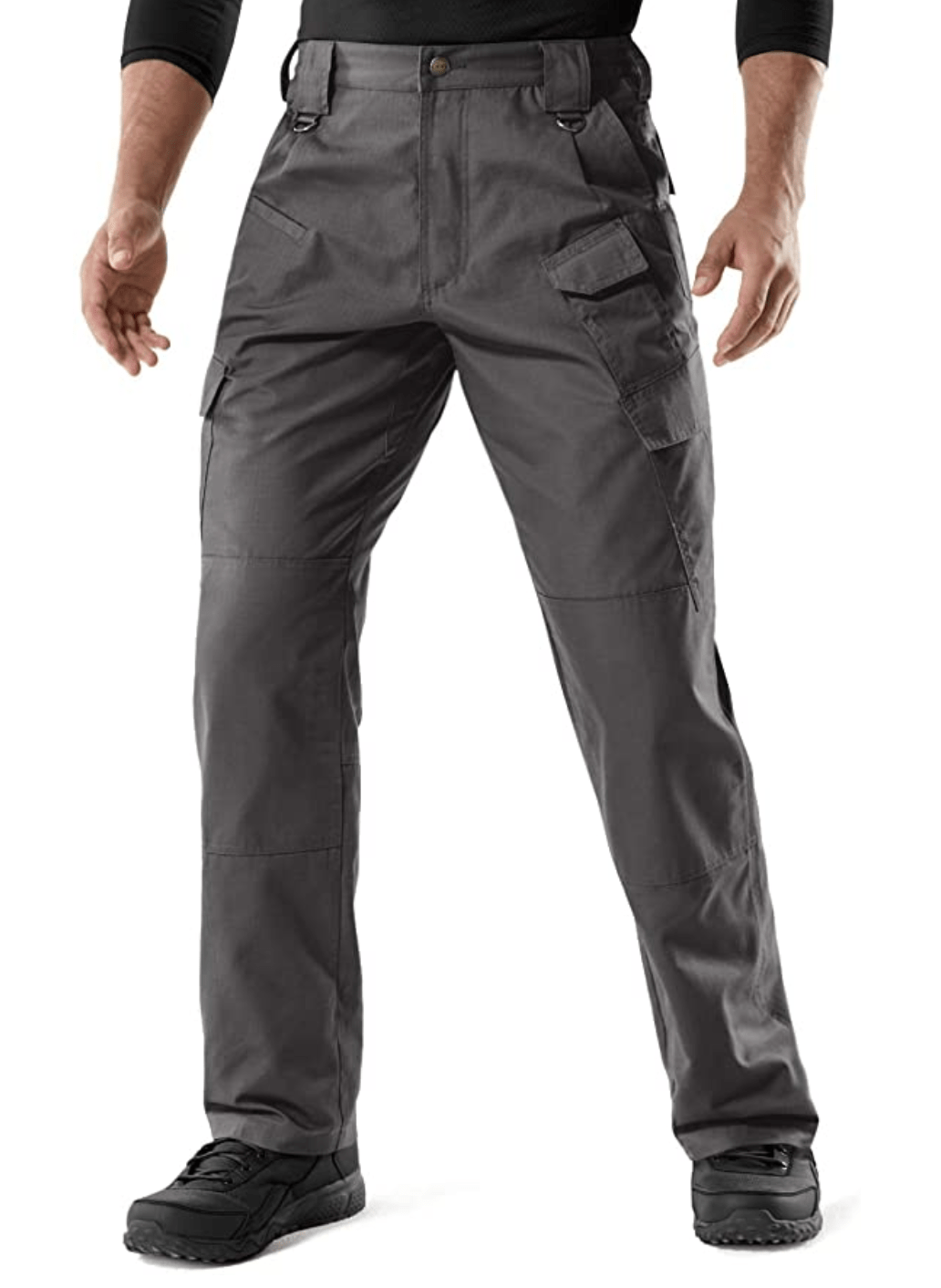 Between $30-$40, these are amazing work pants! They are comfortable and do not look like cheap, knock-off tactical pants even though the price is similar. For light tactical, these are pants that have all you need from cargo pockets and a lightweight material. 
Stylistically, they are based on law enforcement designs so they have all the shooting tactics in mind. However, if you'll be doing more than static shooting, consider moving up to the Practical Tactical list for more durability.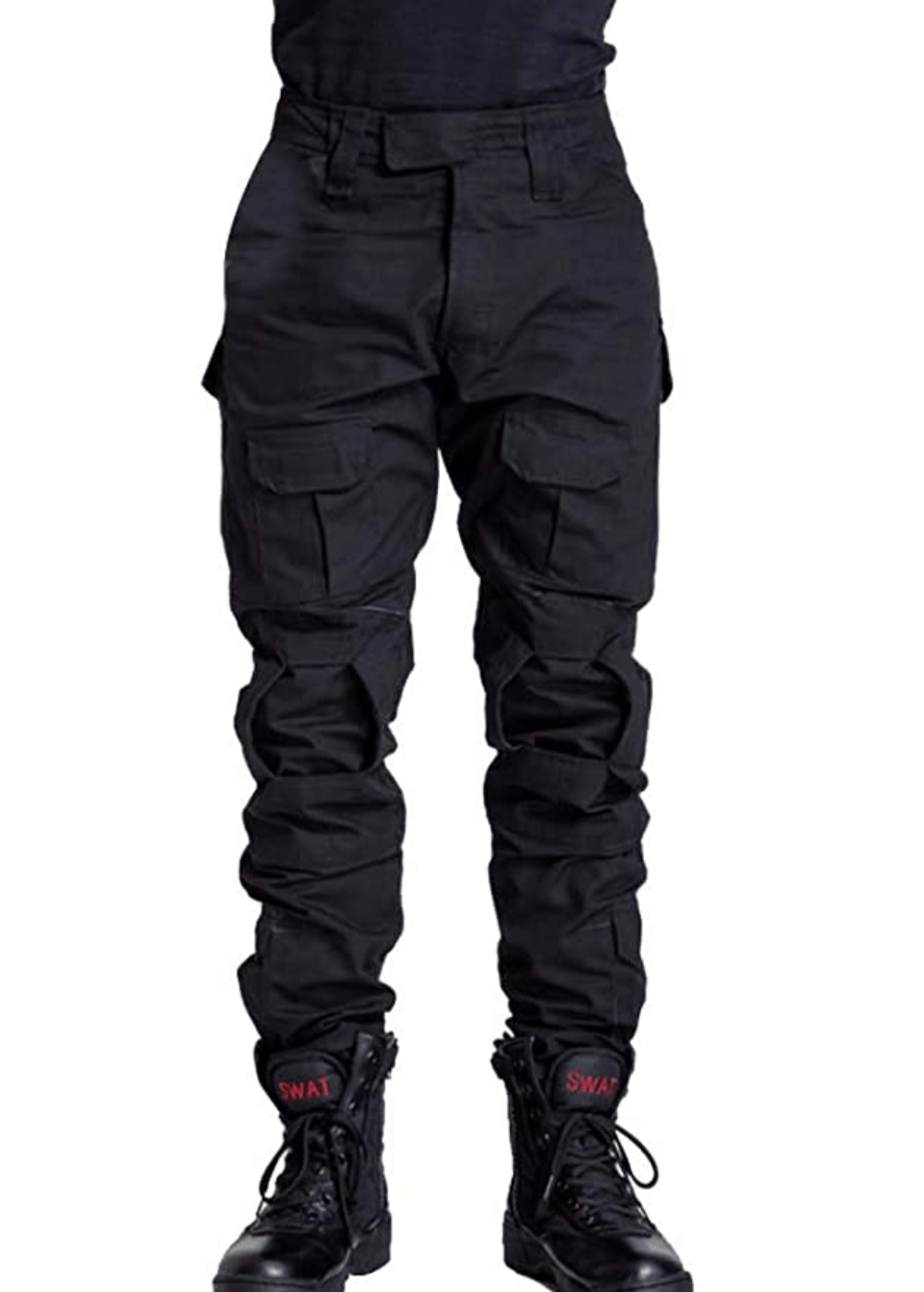 These may be listed in the light category but that is more because of the light hit they take to the wallet. Between $35 – $45, the Akarmy Military Tactical pants are extremely well-rounded in cargo and comfort. The style is exactly what you would expect or that military combat look and the 10 pockets accommodate all that you'll need to carry. 
While they will fit your basic tactical needs, the durability and ease of movement in these pants are not their best quality. These will be great if you are needing a cheaper pair of pants that you won't be wearing for rigorous activities.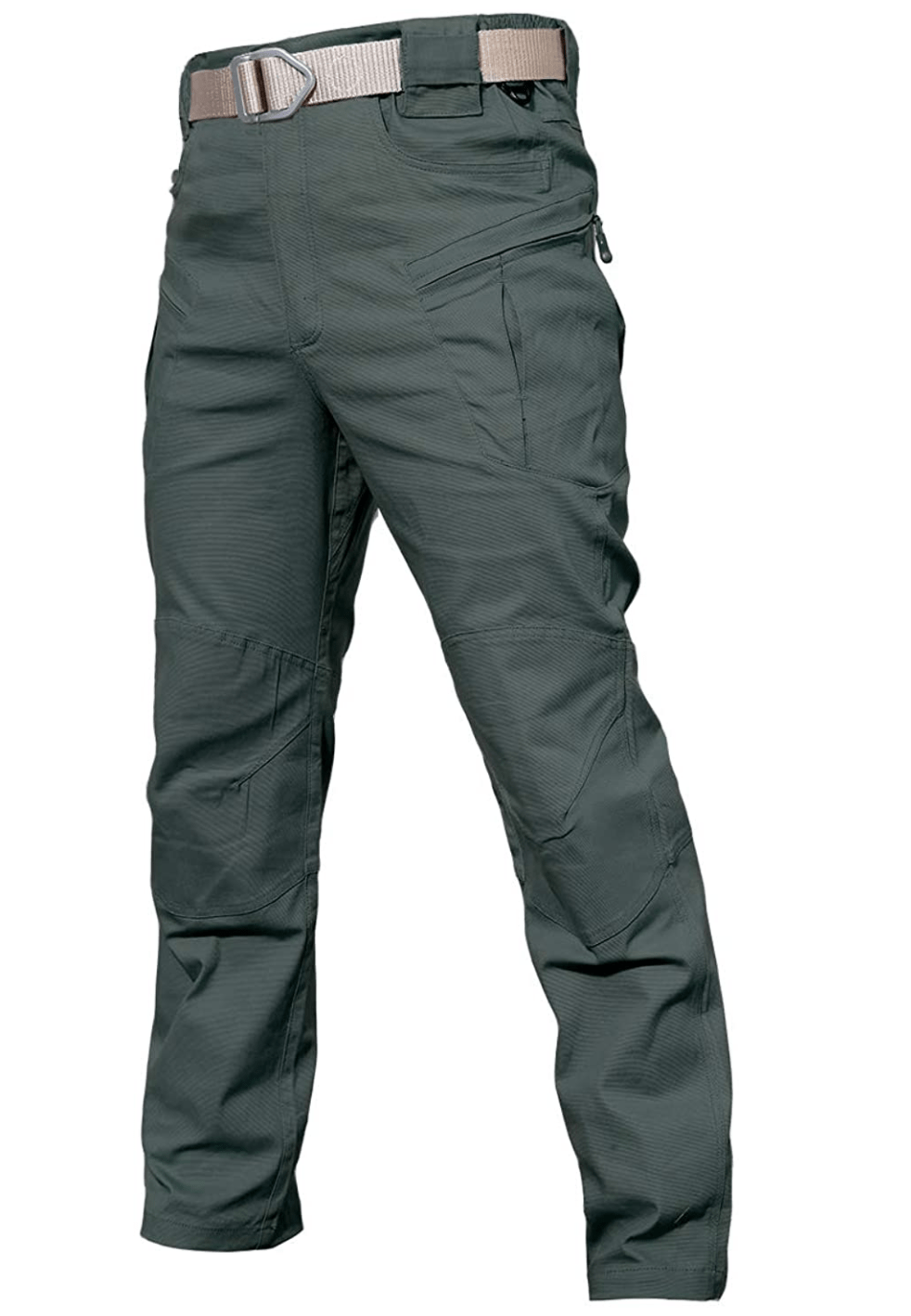 If pockets are what you are looking for, then look no further. While the others have cargo pockets, these have cargo pockets designed with a purpose to include a cell phone sized pocket, knife or flashlight holder with enforced stitching for the clip, and pockets inside the back pockets for money or important items that need to stay put. 
These pants mirror some of the designs that you'll find in the higher categories without the attached price tag at $30-$35. They are, however, made almost entirely of cotton which means if you are going to be in extreme heat, perhaps these aren't the pants for you.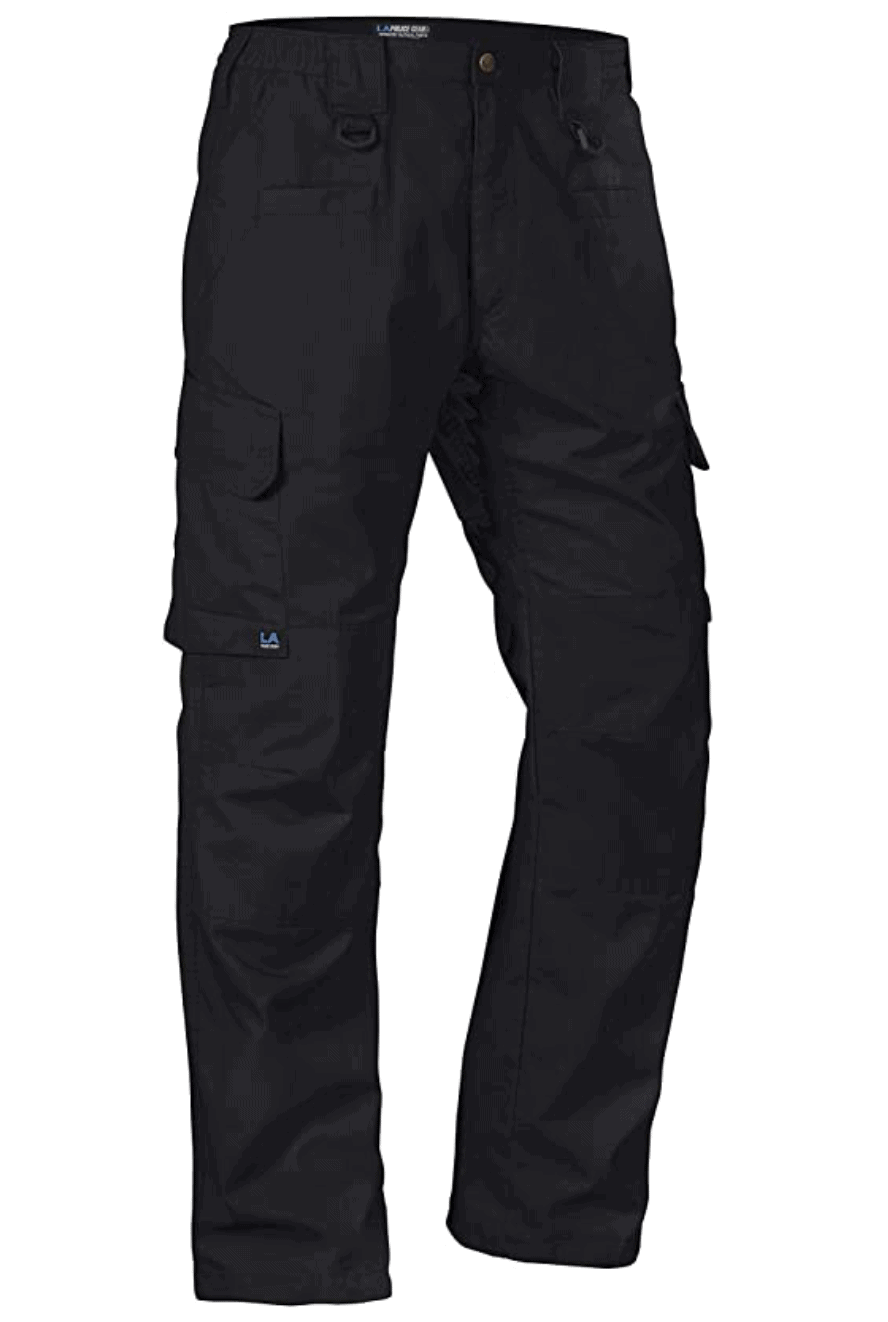 At around $40, these may be the best tactical pants in the Light Tactical category. Designed for police, these pants have movement and cost in mind. The pockets are slanted so that when you are seated or crouched, you still have access to whatever you need and constructed so that they can be durable through those movements. The side pockets are large enough for rifle magazines and movement isn't cumbersome when they are filled. 
As for accessories, these pants have D-rings on the front two belt-loops if you need to clip anything for easy access. If you will be in the heat, the polyester/cotton blend helps to keep you cool without being ultralight in material. 
Practical Tactical
These Practical Tactical category pants are going to fit the needs of most that need a bit more durability and fall within a price range between $50-$80. These are heavy-duty pants meant to last through intensive movement and keep you comfortable. You get a little more bang for your buck in this category.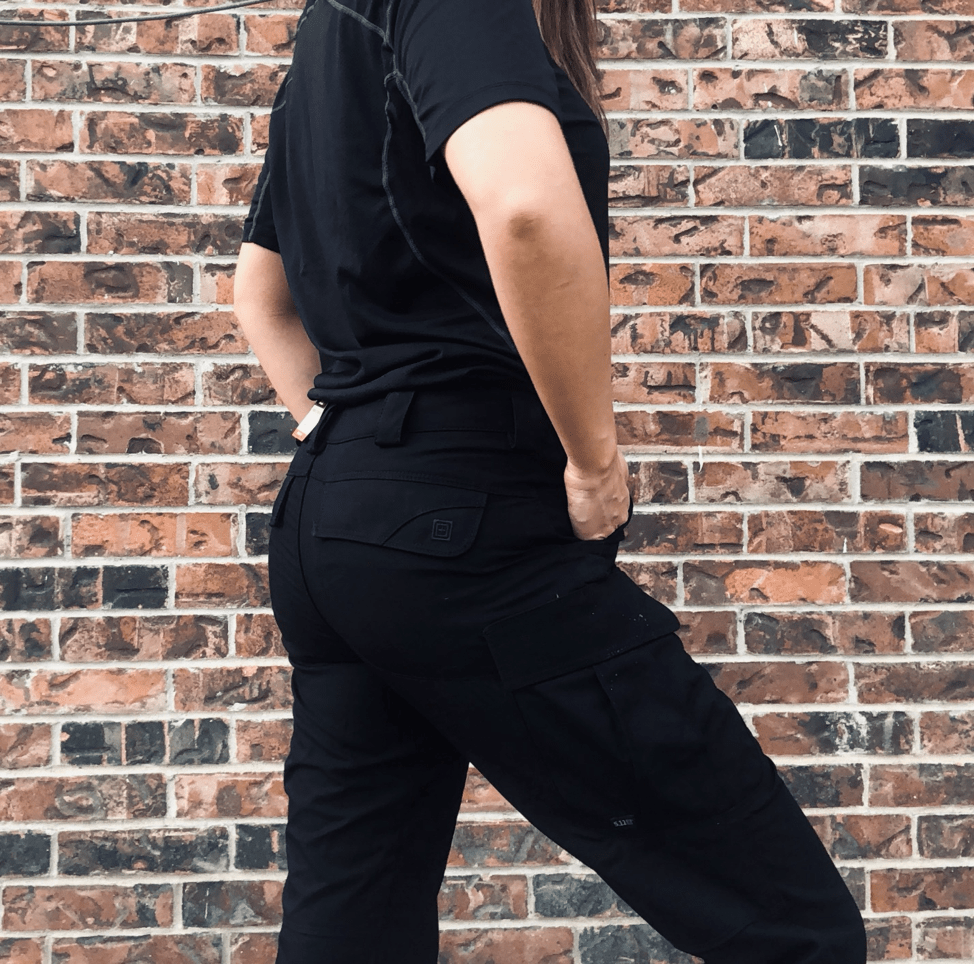 5.11 Stryke Pants — Best Practical Tactical Pants Overall
A favorite brand among law enforcement for a reason, the 5.11 Stryke Pants are well-rounded and well-crafted tactical pants. These are as durable as they are comfortable. The added value that you get for $80 is the Flex-Tac material that allows the pants to stretch with all your movements. You never feel trapped. They also have Teflon coating to make them water and dirt resistant but can cause slight issues with breathability. 
They have all the necessary cargo pockets to include knife/flashlight, front, side, and back pockets. All pockets are Velcro fastened which is a pro for some and a con for others. In addition, they are knee pad ready and have drawstring leg cuffs. These pants are available in both men's and women's styles.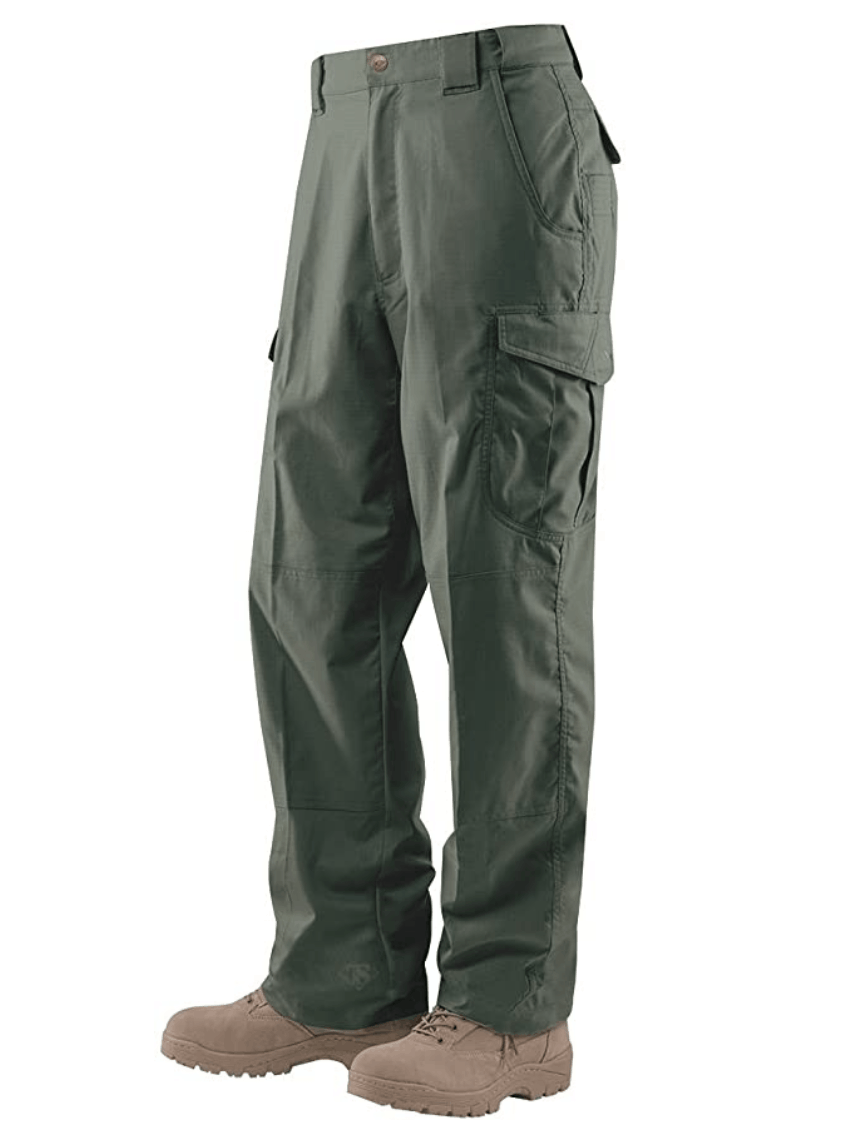 Coming in at the lower end in price for the Practical Tactical category, the TRU-SPEC 24-7 pants cost around $55-$60. Also using a flexible material like 5.11, the pants are made to move when you move to include the waistband that is adjustable. 
There are smaller pockets behind the large side cargo pockets that are made to fit your cell phone, so it doesn't take away any of your valuable storage space. They have a reinforced knife utility pocket and knees and are extremely durable. If you happen to be a badge carrier, the loops are nifty badge carries built into the pants. They are extremely comfortable and lightweight, but they would not be ideal in cold weather.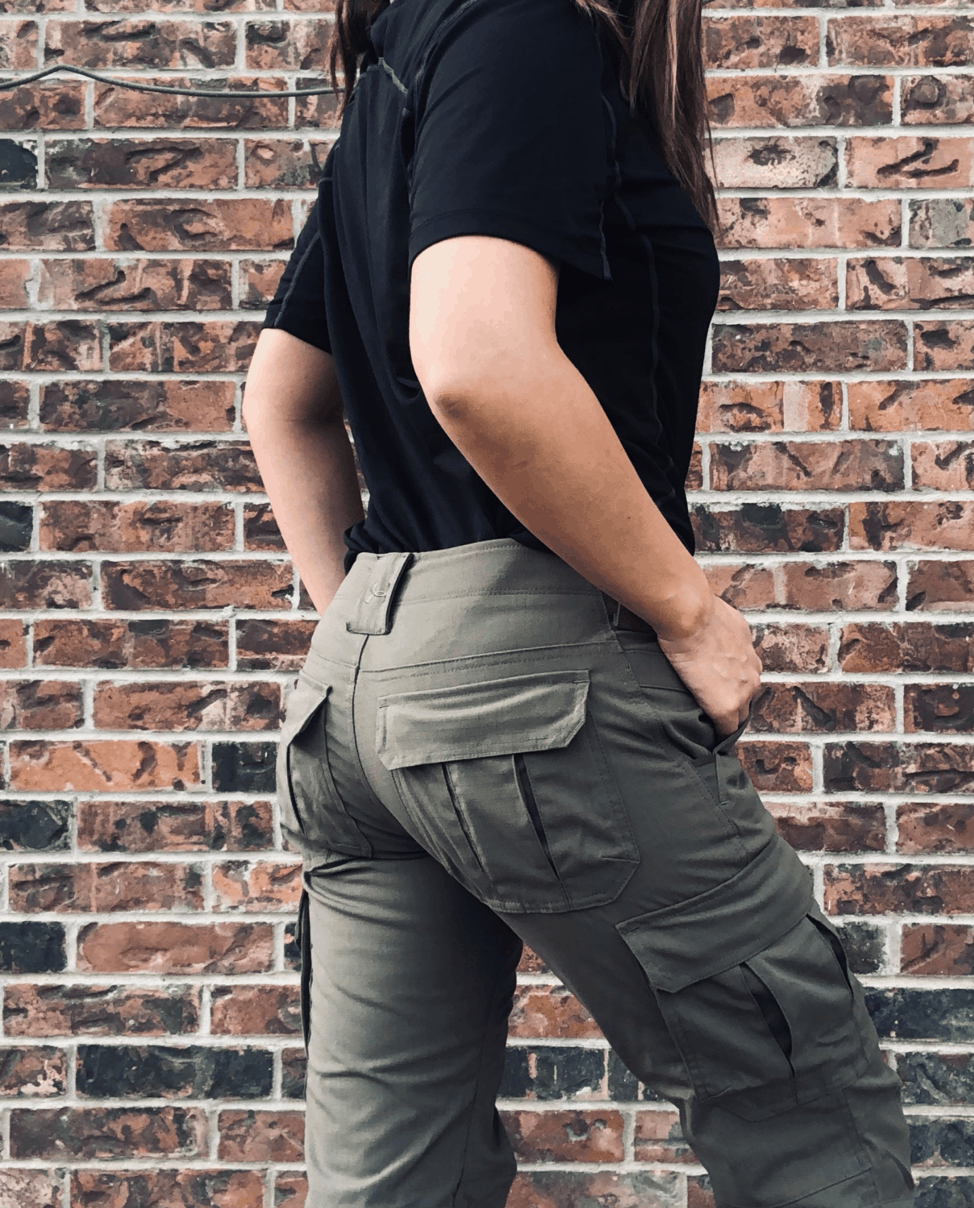 Under Armour is already a well-known brand, but perhaps not for the tactical gear. It's time that they were recognized for their Tactical Patrol Pants (II series). At $80, these pants meet all your need for durability, cargo storage, and style. They have a unique anti-odor fabric that helps if you'll be working long days in the heat which wicks your sweat and dries fast. The rip-stop fabric makes these pants extremely durable. 
However, they do not have the same flexibility as the 5.11 Stryke pants. They do come in both men's and women's style and their women's style and fit is by far superb to others on the market.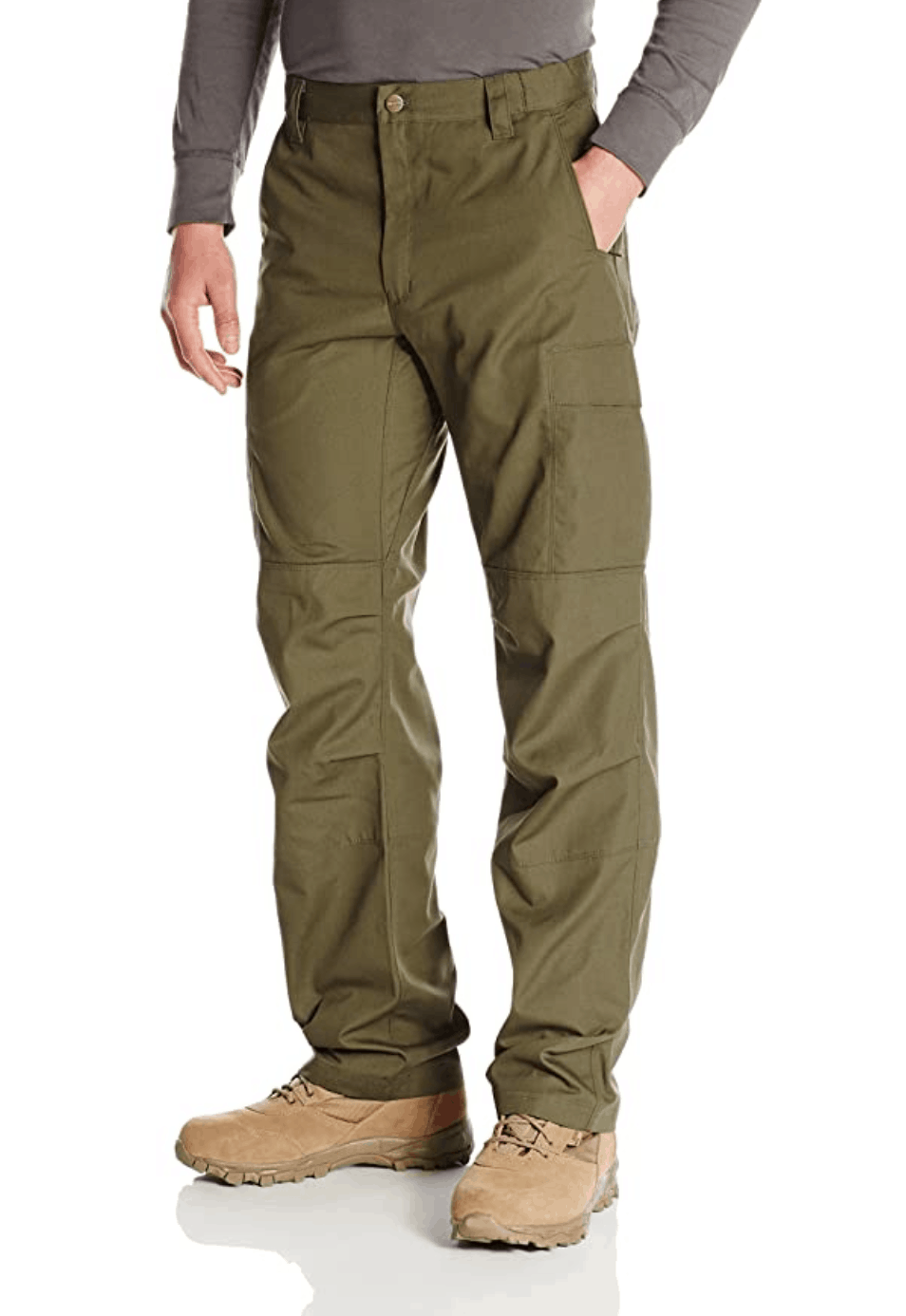 Vrtx Phantom OPS Tactical pants have more than a cool name but come in at a cool price of only $70. These pants are unique in that they are understated without losing cargo space or functionality. They look simple with their slim-line pockets that are designed to hold smaller tools and equipment while keeping them from looking bulky. The material is tear resistant and knees are double reinforced for durability. 
All pockets close with concealed zippers which can be a pro for some who will be in positions where equipment may fall out but a con for others who may need quick accessibility. These are the pants for you if you want all the tactical effectives without the overwhelming style of a pant that screams, "I'm a cop!" 
Professional Tactical
Sometimes, you just want the best of the best and if you're lucky enough to be able to splurge on these, you will not be disappointed. These are the best tactical pants that are created for the professional law enforcement/military or avid shooting competitors with all the bells and whistles to help you to be fast, efficient, and comfortable. 
Professionals have lived through hell and found what's needed in a pant from adjustable waist bands, accessible flashlight holders, knee pads, and are, of course, concealed carry ready. These pants have all that and more. They are truly the best tactical pants on the market, and their price tag reflects it. These pants range from $100-$250.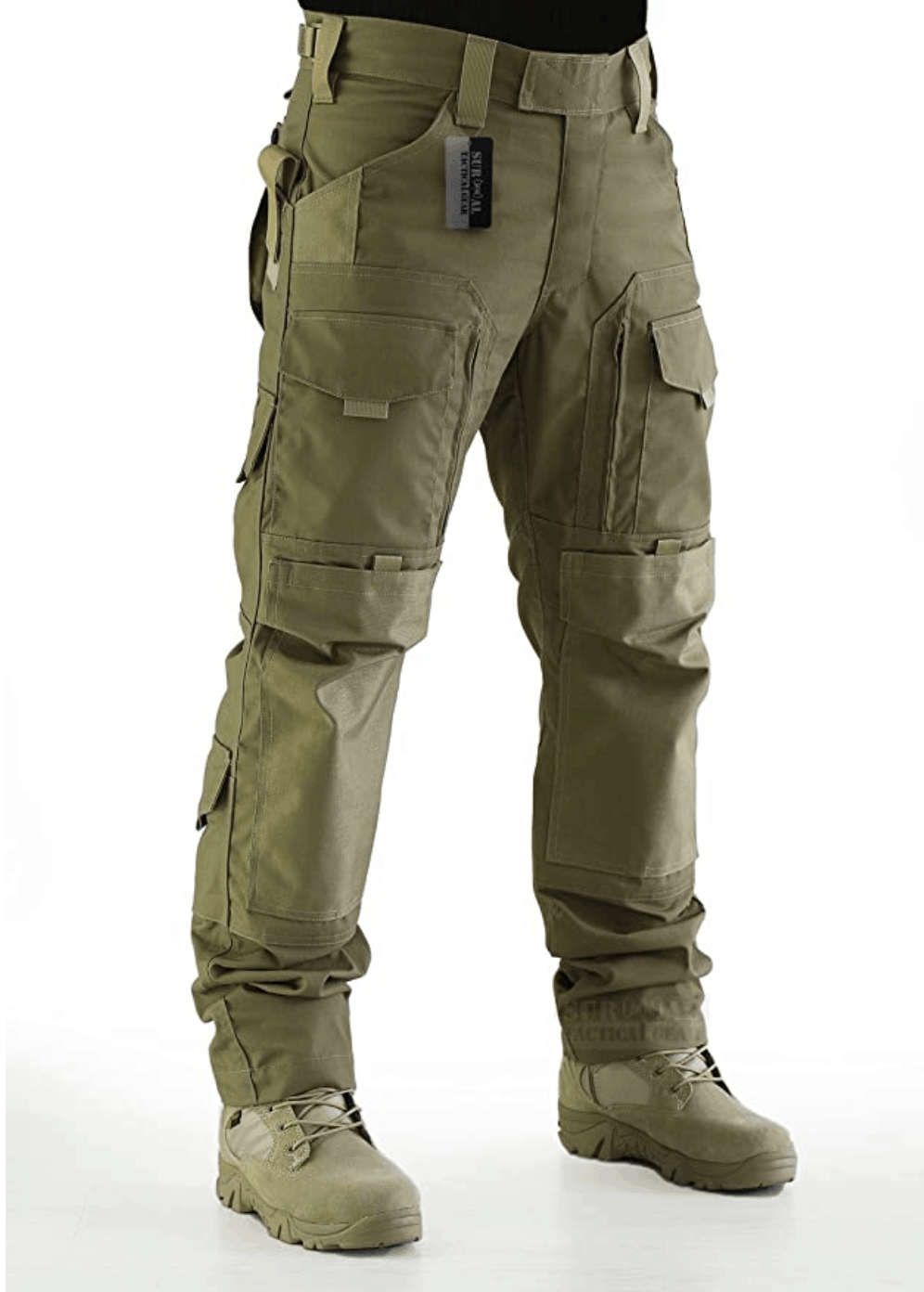 At $100, you may find yourself wanting to pay the extra few bucks to get these professional tactical pants. The nylon/polyester pants make these some of the most durable pants on the market. Perhaps not as breathable, but that's the price for strength. The waist band is adjustable for the perfect fit and the knees have pockets ready for your knee pads of choice. 
These also have an amazing MOLLE system built in on the side so the attachment of additional pouches or a medical kit is a breeze. Or of course you can use this to customize for you exact tactical needs which is sometimes exactly what you need.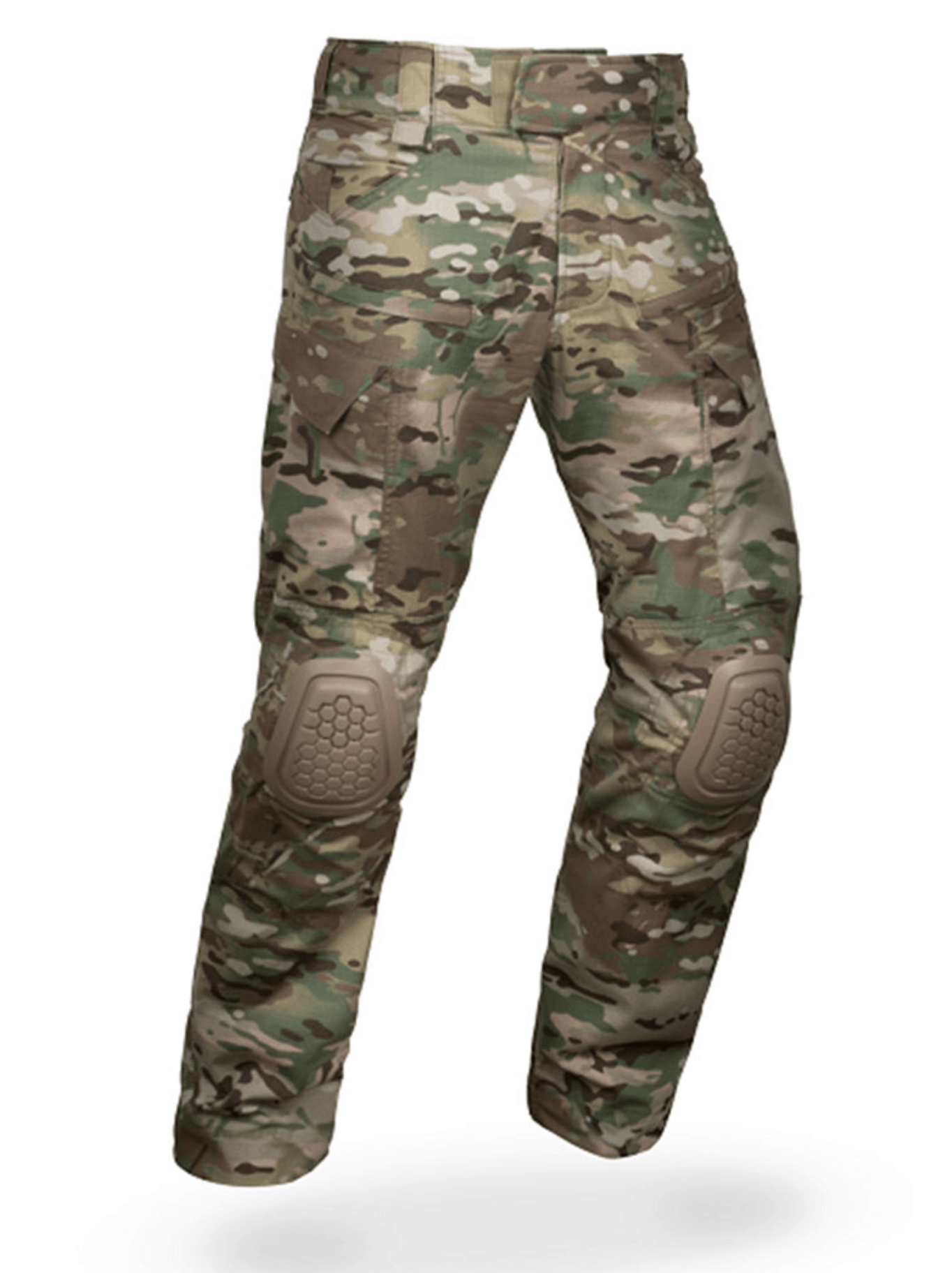 CRYE G4 Combat Pant — Best Professional Tactical Pants Overall
If you'll be working in the field or on deployment, you cannot go wrong with the CRYE G4 Combat pants. Everything about these pants are tactical…and you're going to pay for it at $285. The pants are made with their custom VTX Ripstop fabric which not only makes these pants flexible and breathable, but also nearly indestructible. No need to choose between zipper or Velcro because there is a mixture of both closures through the pocket designs because it's known that sometimes you need security and other times you need accessibility. 
The pockets are created to be able to open and connect to modify the size. There are pockets specified for a cell phone, knife, and even a water bottle! The knee pad holders are adjustable for height and tension because not all bodies are created equal (but they will sell you on the knee pads as an additional cost). The material is meant to keep you dry, cool, and comfortable. These pants are the definition of tactical and have the praise of both military and law enforcement alike. 
Putting it All Together
There are so many options available to you when it comes to tactical pants, but the best tactical pants are going to be the ones that work for you. Maybe you just need a step-up in durability for your shooting competitions or perhaps you need pants that are going to last for a 12-month deployment. Maybe you are just looking for an all-around good tactical pant for your concealed carry needs. 
Whatever those needs may be, this list of the best tactical pants will help you find what you were looking for to fit your personal tactical needs. Once you've selected the best tactical pants for your wardrobe, consider taking a deeper look at our comprehensive guide to concealed carry clothing. As always, stay safe!