We are proud of our guns. They keep us safe by protecting us from a variety of life-threatening situations. With over five million people in the National Rifle Association's membership registry, it is clear that many Americans believe that firearms are essential for their safety.
Are you looking to pick a new hobby, begin a collection, or want to get a gun? Well, it is worth noting that purchasing the weapon is the first of many steps. You must ensure that your firearm remains out of reach from people who have no right to use it. Of course, you can store your gun in your drawer, cabinet or other storage in your house. However, it wouldn't be an ideal solution. Talk to any long-time gun aficionado, and he or she will tell you to invest in a high-quality gun cabinet.
Most of you reading this might be wondering if gun cabinets offer something different from regular storage accessories. Well, the answer is yes. Various manufacturers make specialized cabinets for guns to keep them safe and protect them from unwanted elements that degrade the firearm's quality.
Dust, water, and wind, in particular, are quite detrimental for most handguns. Excessive exposure could diminish its looks and lifespan. The wood quality wouldn't be the same, and the metal barrels could also become rusty. What's more, a gun cabinet will prevent children from getting their hands on your weapon. You must never treat guns as toys, which is why access to them should be only limited to people who are competent enough to use them.
Like every other accessory on the market, buyers will find an abundance of these gun cabinets. The wide array of choices can sometimes become overwhelming for buyers. Most of them have difficulty assessing their value in terms of security, design, size, and price. Luckily, you do not need to worry about such issues as we will discuss ten of the best gun cabinets available in 2020. We will also discuss each product's unique aspects, ensuring that you can choose one that suits your particular gun storage needs.
Top Ten Gun Cabinets in 2020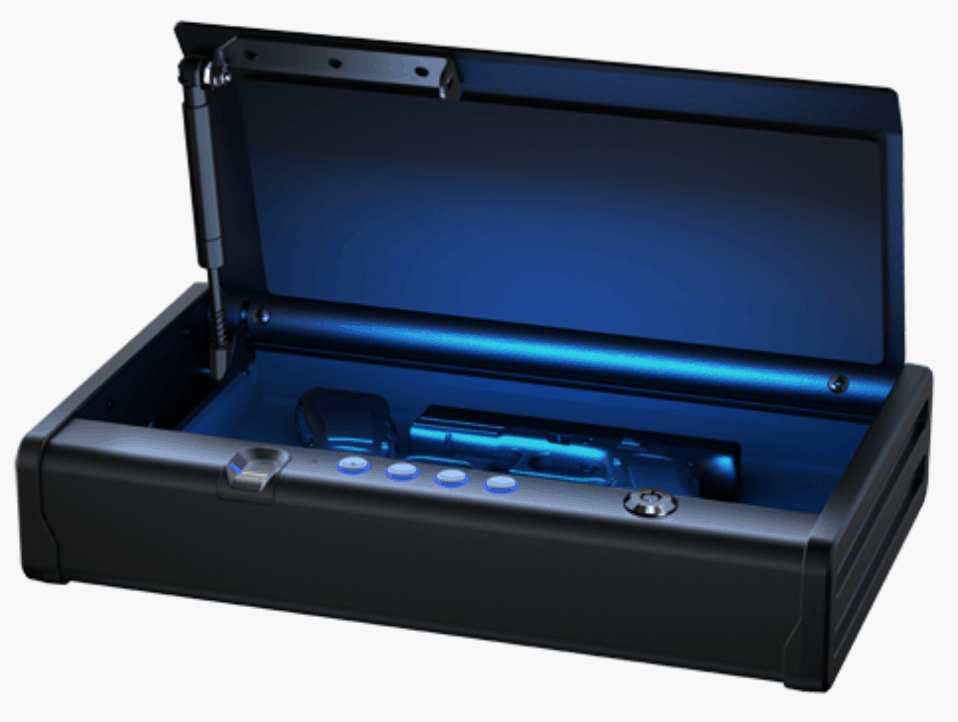 If you are looking for a compact storage solution to protect your pistol, choose this gun cabinet. It has a variety of handy features that guarantee unparalleled protection in a single space-saving unit. Sentry Safe provides a spacious capacity to store two guns comfortably. Once you look your firearms inside, you can breathe a sigh of relief knowing that your guns are out of other's reach.
The safe also has a user-friendly backup entry system and digital keypad, ensuring you have complete control of your gun's access. You will also find a highly-secure fingerprint scanner and innovative biometric system for optimum protection. Sentry Safe's opening mechanism is quite discreet. It provides convenient single-hand access, ensuring that you can comfortably place this safe on your bedside.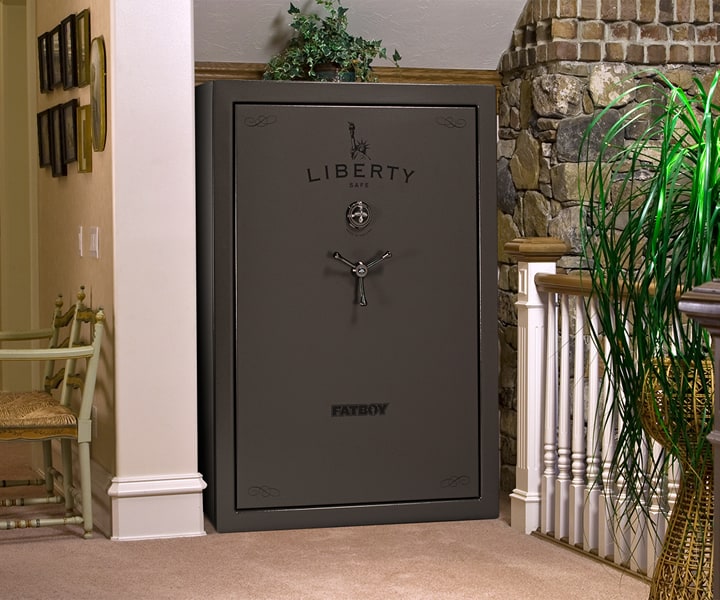 Liberty is a renowned gun accessory brand that has been operational since 1988. The company's vast range of specialized safes is quite popular among gun owners. Choose this brand's gun cabinet if you own multiple firearms. The safes are quite spacious and are available in two sizes. One can store up to forty-eight guns while the other can store sixty-four of them. 
What's most impressive about this storage cabinet is that it is easily customizable. You get the freedom to choose your preferred lock type and color. Furthermore, Liberty Fatboy provides a vast range of accessories, including alerts and monitoring systems to keep your firearms always safe.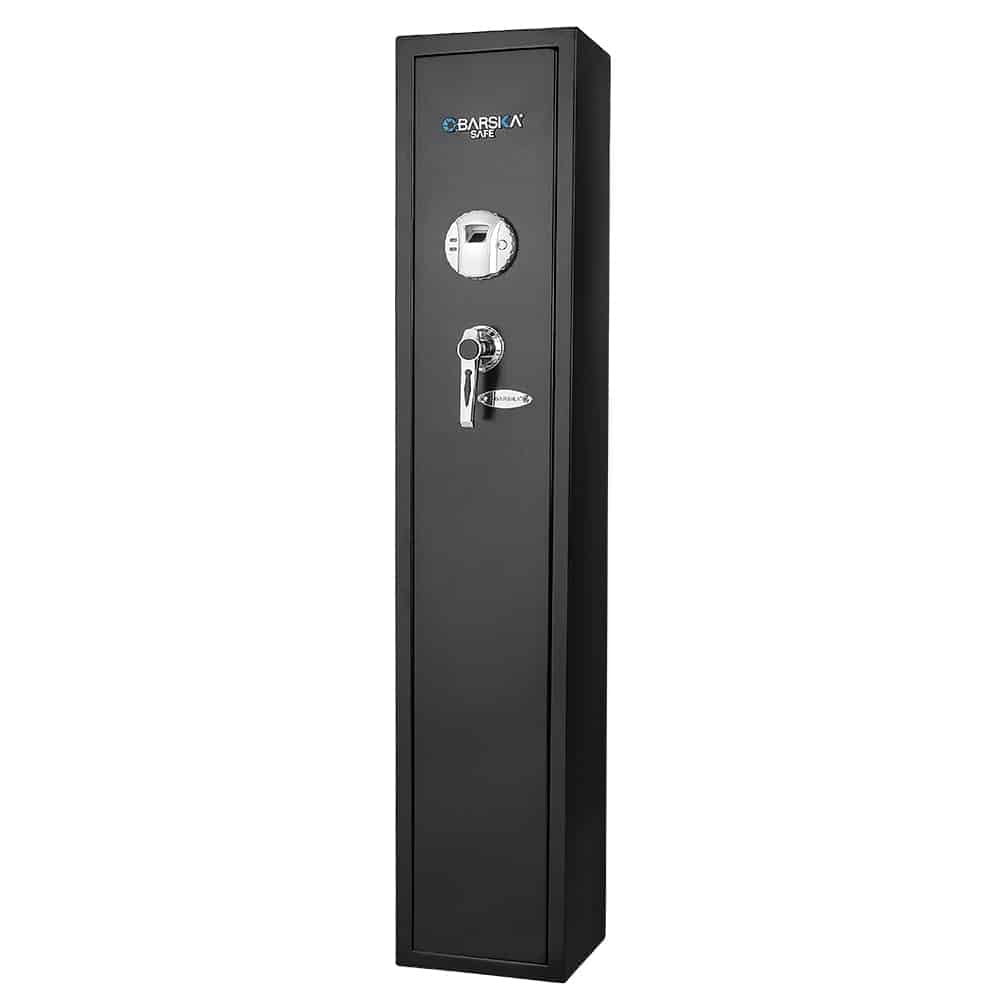 Barska is a California based company that provides various gun cabinets and safe models across the world. If you're looking for a budget-friendly gun cabinet with excellent value for money, choose this Barska Biometric safe. It is arguably the most stylish product you will find in 2020.
Unlike most gun safes, the biometric technology used in this one is unique. Its fingerprint scanning, in particular, is quite efficient and is capable of recognizing over one hundred identifications to provide access to multiple users. You can store three to four rifles in this safe. Buyers also get three deadbolts with this product for emergencies. Choose this product if you have limited space.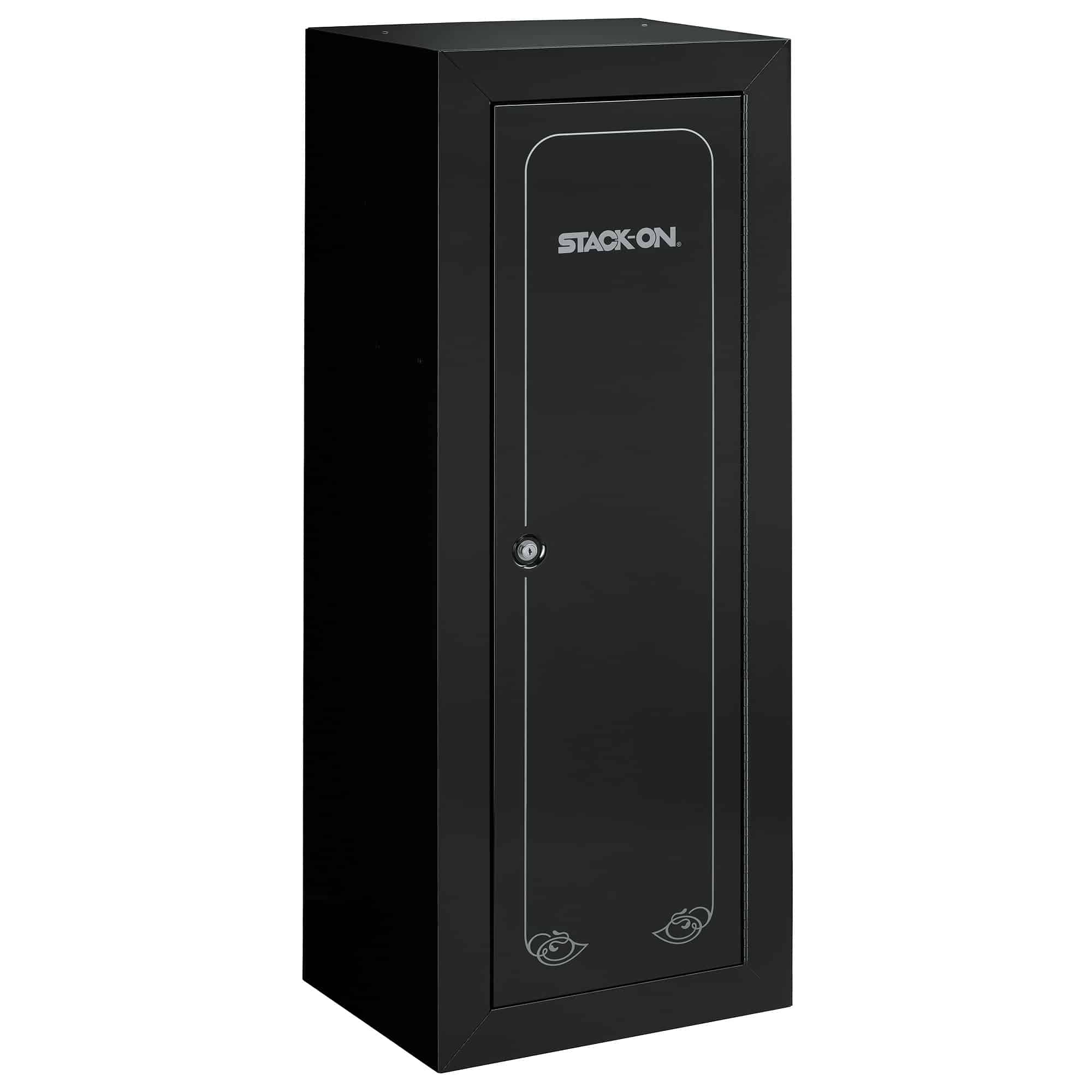 Stack-On is a widely recognized name in the gun storage landscape. The company mainly caters to outdoor shooters who change locations frequently. If you are looking for a portable storage option for your gun, choose this gun cabinet model by Stack-On.
The Stack-On firearm cabinet can accommodate eighteen long guns and various other smaller accessories. It is a budget-friendly option for multiple shooters who like to hunt or train together. Furthermore, this safe's interior can also hold gun barrels, protecting them from scratches and other types of damage.
The only downside (if you can call it that) is that it does not have automated features. You will need to lock this cabinet with a key. The locks are quite robust and are not easy to break. Go for this option if you are looking for a secure yet affordable option to store multiple guns.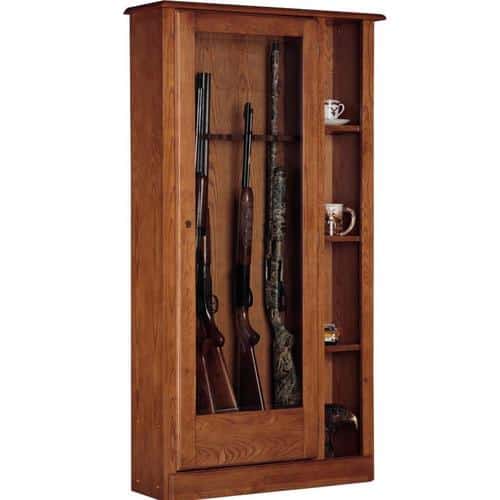 You will not find a better cabinet with an old school classy appearance than this one. It is an excellent throwback to when gun owners did not have to worry about people breaking in and stealing their weapons. That said, the only thing old school about this gun cabinet is its appearance. Otherwise, it is as secure as it gets. Choose this safe if you have a separate storage room for your weapons. You could say that this product is more of a display case because of its glass doors (which are quite robust.)
The unit comes with convenient barrel rests and multiple adjustable shelves. It can hold rifles, shotguns, and a few handguns.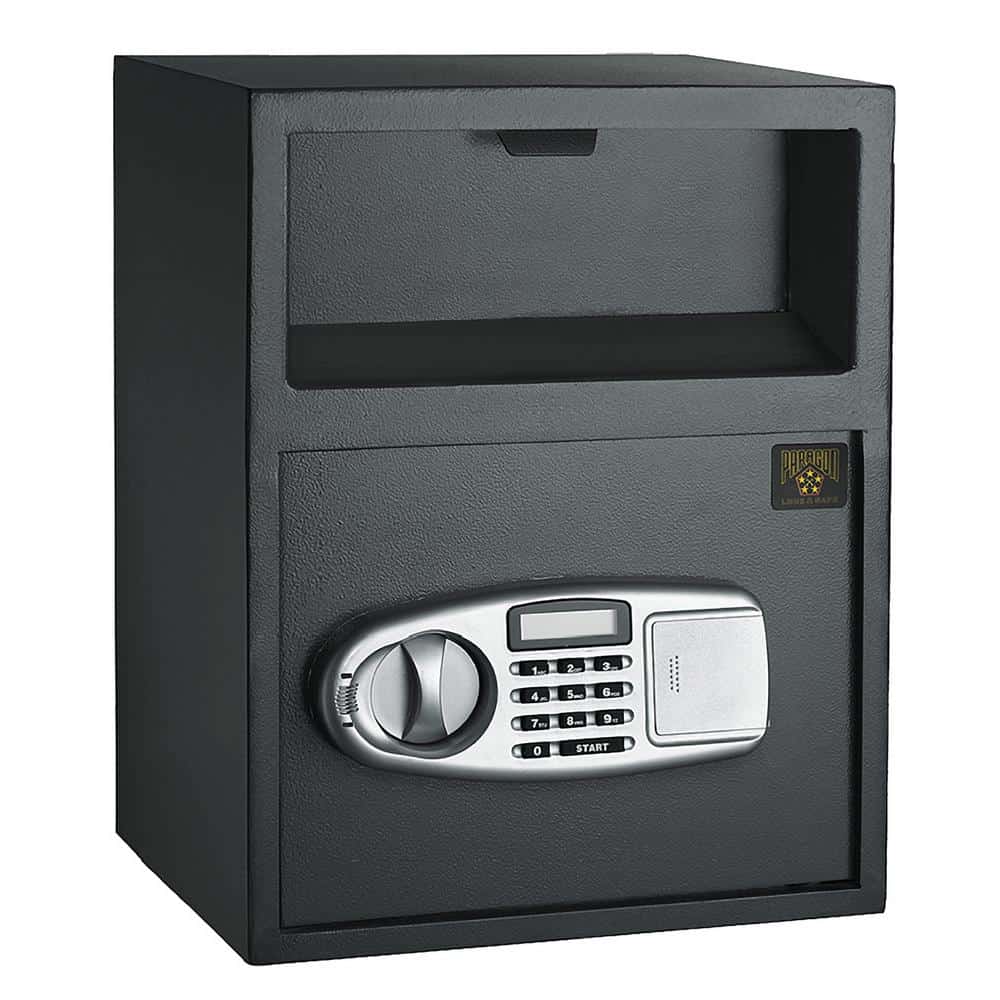 If you are a gun owner who prefers quality over aesthetics, this model from Paragon would be ideal. Its design isn't as visually appealing as other cabinets on this list, but its safety is top-notch. Paragon designed this gun cabinet with various theft protection features, making sure that nobody can break into them, no matter how, despite their craftiness and skills. The product comes with eighteen-gauge coated power that provides a durable and sturdy place to store your personal belongings and firearms.
The straightforward interior construction and simplified design of this product are ideal for shooters who mean business. The paragon lock and safe also have a matted bottom that can cushion long guns and protects them from damage.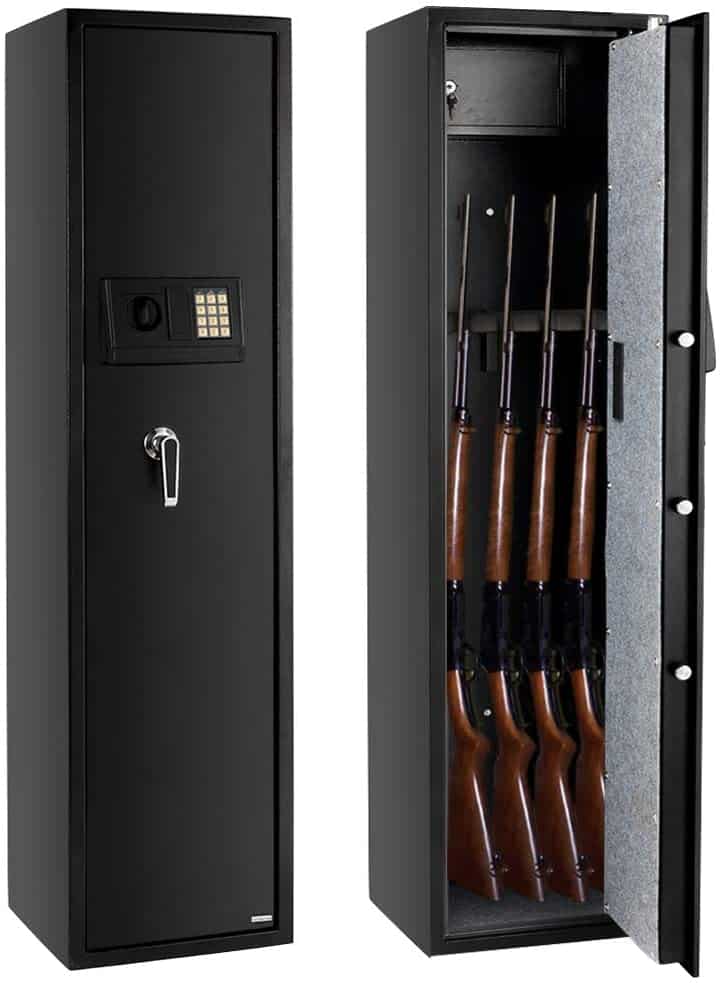 The five gun rifle cabinet by FCH is one of the most highly demanded products in the market. Firearm owners are clamoring to get their hands on this safe because of the excellent protection it provides. You will love the electronic keypad on this cabinet. It has twelve buttons and runs with four AA batteries, making sure you do not have to worry about power blackouts. What's more, programming this electronic gun safe is quite straightforward.
You will get a pair of emergency keys in this product if you forget your password or keypad's battery dies.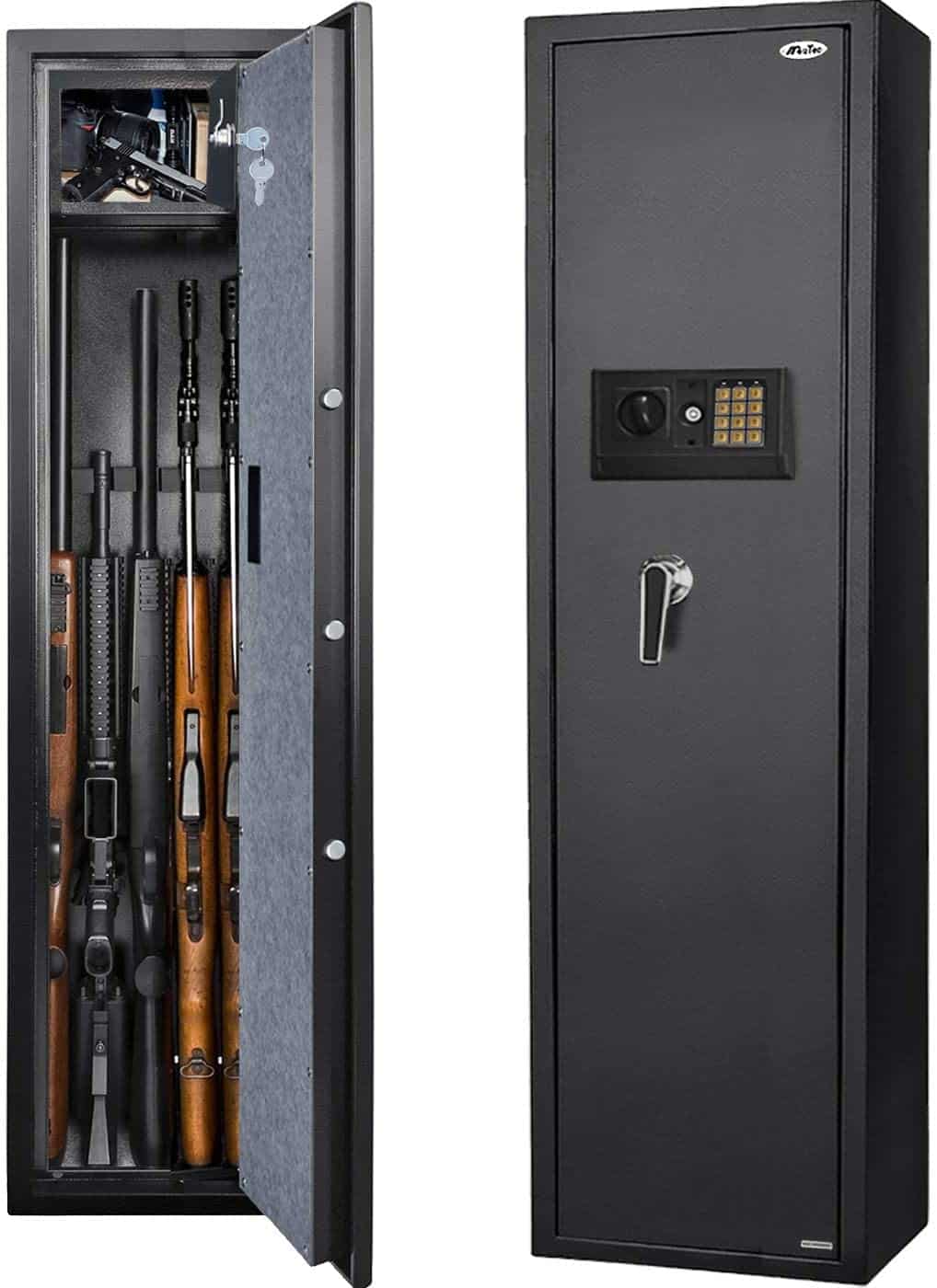 The Moutec Electronic cabinet is an excellent unit for people who own multiple long guns (ideally five). It comes with a handgun box that provides some extra storage space. As per this cabinet's manufacturer, this product is heads and shoulders better than other units of the same size.
The cabinet has a convenient, fast activated code for accessing your gun in emergency cases. It also has several pre-punched holes that allow you to mount your gun with ease. Moutec added an extra safety layer on this rifle cabinet by using robust locking deadbolts for the door.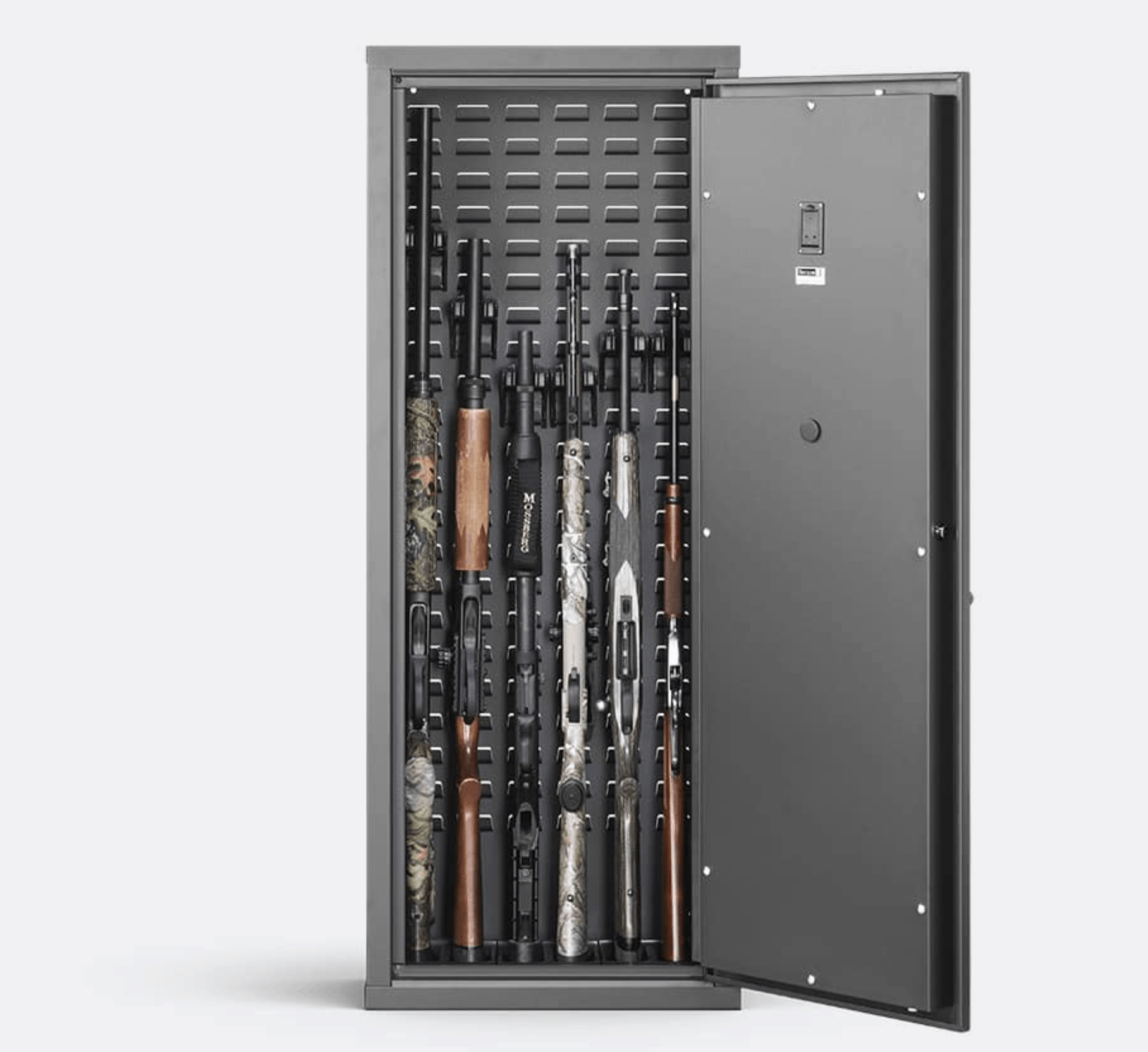 SecureIt is a well-recognized brand that serves a vast range of international and national clients. The company's gun cabinets are as its name suggests: secure. What makes this company stand out from others is that it creates specialized firearm storage units for police forces and the military. The brand's creativity and innovation are present in each of its products, and this model is no exception.
Installing this unit is safe and straightforward. You can fit it into any space without the hassle and store your firearms. The cabinet can easily store five to six guns and protect them from harmful elements responsible for deteriorating a firearm's appearance and life.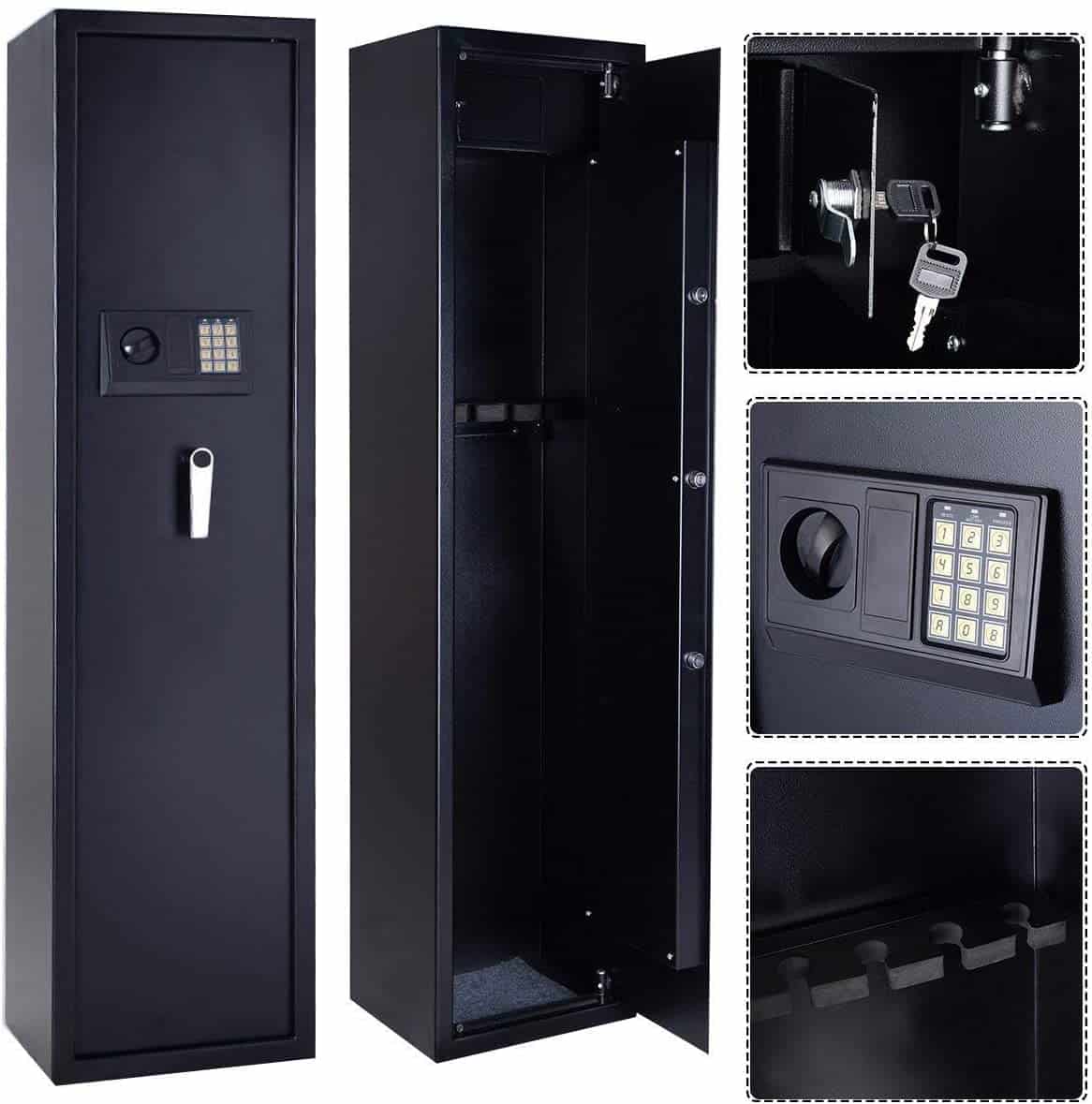 Several gun owners possess shotguns and rifles. It would be best if you bought this cabinet if you own these weapons too. Why? Because this unit can accommodate them without any complications. You will get a robust steel box with this safe where you can store bullets and gunpowder.
Furthermore, this shotgun cabinet also has battery-powered bolts which you can open by entering an uncomplicated code. Children and thieves, no matter how savvy they are, will not be able to access your gun from this solid cabinet. 
Final Thoughts
Now that you know about ten of the best gun cabinets available in 2020 go ahead and buy one for your firearms. It would be best if you considered your particular requirements before you finalize your purchase to ensure your cabinet has sufficient storage space and offers adequate protection. Once you've decided, fill it up with your own personal arsenal! If you need some good concealed carry guns to fill it up, consider reading up on the best concealed carry revolvers! As always, be vigilant and stay safe out there.